Kifune shrine is situated in the North of Kyoto.
This is my most favorite place in Kyoto.
I suppose, Kifune shrine is not popular place.
Even some people who visit Kyoto several times haven't visit there…
I knew Kifune shrine from novel which is called 'Shonen Onmyoji (Young exorcist)'
I was just very attracted this shrine and wanted to see Takaokaminokami (god of Kifune).
Since my first visit, I just love the place and atmosphere,
and then visit 2 or 3 times every year.
You can enjoy difference of the seasons here;
Blooming cherry blossoms in spring, colored leaves in autumn,
and covered by white snow in winter (with very cold temperature)
When you visit Kifune, you need to use Eizan-train.
There is 'Momiji no tonnel (Tonnel of colored leaves)' on the way,
a train run slower so you can enjoy beautiful views from the train as well.
Takaokaminokami is also known as god of water and her appearance is believed as dragon.
I believe I would love the Kifune because my Chinese zodiac is dragon,
and I like water sports such as swimming, and scuba diving.
As a result, I can relax when I came here especially in rear shrine.
The main shrine used to be the place where the rear shrine is situated now,
but replaced when the Kifune river was flooded.
On the way to rear shrine, there is a river called
'Omoi-gawa' where a woman prayed her reconciliation with husband (and succeeded)
and 'Nakamiya (Middle shrine)' where worship a Iwanagahimeno-mikoto is known as god of marriage.
Nakamiya is not only for praying marriage of a man and woman but also all people, child, and business.
I know Kifune is a bit far from the centre of Kyoto city, but I strongly recommend to visit there.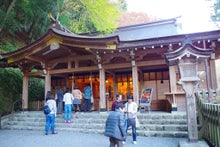 Kifune shrine Official Homepage is HERE
Takaokaminokami
Tamayorihime, known as the mother of Jinmu emperor, appeared at Tsu in Naniwa,
went upstream Kifune river to find the origin of water.
She built a small shrine at the place where a rear shrine is situated now.
Therefore, people believe that Kifune shrine is the place to pray for water for long years
Also, Kifune is also known as the place to pray for marriage because of the story of Izumih-shikibu,
who prayed at Kifune and reconciliation with her husband and succeeded.
xxx HIRO